The summer seems to be coming to an end. Are you well-rested, healthy and full of energy? Or should that be it already? This brief bout of normalcy after a year and a half of restrictions? "Complex crises" are what experts call what we are currently experiencing. In this situation, our companies need the security to achieve their goals and the ability to adapt quickly to new circumstances; as well as the freedom for employees to use their creativity and create new company values together. On September 15th, we invite you to the CubeServ Congress:
"Mastering Change Successfully – Adding Value to Analytics In-House."
The topics of planning, forecasting, cloud and advanced analytics are in focus. Find inspiration in these areas in this Inside Look. I look forward to an exciting exchange with you on the current challenges at our CubeServ Congress! Until then, yours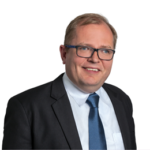 Adrian Bourcevet Chairman
CUBESERV FINANCIAL PLANNER & MORE: INTEGRATED FINANCIAL PLANNING IN NO TIME! Your planning process is too complex, too inflexible and requires time-consuming, manual Excel updates? We offer you fully integrated financial planning from a single source, based on SAP BPC Embedded, including the cost centre, P&L, balance sheet, cash flow and investment-planning modules. "Well copied is better than poorly developed": Shorter development times lead to budget savings and much faster implementation of your corporate (financial) planning!
WORKFORCE PLANNING – CREATING INTERNATIONAL TRANSPARENCY Is your company's workforce planning reliable and comparable across national borders? Both actual and plan data are often not comparable. This costs an unnecessary amount of time and money in the planning process. Harmonization of planning is possible with divergent standards and hybrid systems. We have already supported many global companies in professionalizing their workforce controlling with our CubeServ workforce cost planning, regardless of industry. In the workshop "Workforce Planning" you will get a detailed insight into best practices, as well as an individual roadmap for a global approach.
ONLINE TRAINING: SAP ANALYTICS CLOUD – SELF-SERVICE MADE EASY!
Analyze and present company data independently in 6 weeks. Period: September 9th to October 14th, 2021 With our online training package, we will show you how easy it will be for you to work with SAP Analytics Cloud. You will explore and visualize your data in no time – without any prior technical knowledge. Learn when and where you want with high-quality videos and interactive web sessions.
We look forward to seeing you!
Register now for:
SAP Analytics Cloud – Self-Service made easy – Espresso Tutorials (espresso-tutorials.com)
Our current workshop offerings on analytics topics and trends round off our portfolio for you.
Save costs, gain space & performance with housekeeping
Housekeeping in the SAP BW system, whether with or without the HANA database, is a duty and belongs to the regular tasks of every administrator. Here too, you can benefit from the experience you have gained. In a 2-day workshop, our experts share their experiences with a lot of directly applicable knowledge.
How to master the upgrade of your integrated planning successfully
Are you about to upgrade to SAP BW/4HANA and/or S/4HANA and wondering what will happen to your planning solutions? We will show you how to manage the complexity and how to get to SAP BPC 11.X and/or SAP Analytics Cloud safely and without obstacles. Use our proven workshop format to determine which planning framework is right for you.
CubeServ webinars.
CFO STRATEGY 2020 STUDY
In the last issue of CubeServ Inside Look we invited you to participate in the study. The results of the study, which was conducted by the Institute of Finance, Financial Law and Law & Economics at the University of St. Gallen together with our partner Finance Diagnostics, are now available.
Roland J. Merz.
CAREER INTERVIEW: FROM BACHELOR TO CONSULTANT Jasmin Tlais talks about working as an Analytics Consultant at CubeServ. We are happy that we were able to accompany and develop her during her studies to become a BI consultant. In our Start Smart trainee program, we train graduates every year to become certified SAP consultants before they start working on customer projects. The qualification of our employees is our key to success. That is why CubeServ trains its consultants every year with up to 35 days of advanced training to make your projects a success.
Stay up to date, around the Data-Driven Business with tools for Analytics from SAP & Co. and do not miss any news.
a variety of other interesting articles can be found
here
.
CUBESERV CONGRESS 2021 Successfully mastering change – increasing the value of analytics in-house. September 15th, 2021, in Zurich | AURA
Leaders of the SAP Business Analytics community will present their milestones, innovations, and visions and discuss future trends at the CubeServ Congress 2021. Get personally inspired by new BI and Business Analytics trends and experience new products with our partners.
survey
.
Take the opportunity to expand your business analytics network.
Take the opportunity to discuss your individual questions with our accomplished speakers.
See you soon in Zurich!
You have successfully reached the end of the CubeServ Inside Look. We hope that you have enjoyed the articles. If you have any further questions, please do not hesitate to contact us. Your CubeServ Inside Look editorial team