Business analytics is built on good data. ☝ SAP offers various solutions to design the optimal data warehouse. ♔✅
SAP Analytics: Integration is the key
SAP develops outstanding software for handling all of a company's business processes such as accounting, controlling, sales, purchasing, production, warehousing and human resources. The hallmark of the self-developed software is the high degree of adaptation to customer requirements via parameters in tables. This makes a lot of things possible, the price for this is a high complexity compared to competitors. SAP Analytics is characterized by a very high level of integration between the individual applications.

The high level of integration still excites me about SAP products. I am aware that the high expectations are not being met, especially with the purchased solutions. Christian Klein (CEO SAP SE) has promised improvements here. There are endless offers to get data out of SAP systems and write it into analytical applications. Experience teaches me: "No one understands SAP data as well as SAP does." The data quality in Finance, combined with the high standard SAP sets in this area, is the basis for me to recommend SAP as a (partial) solution for the Analytical Platform.
SAP HANA – the technological basis for SAP Analytics
SAP HANA provides the technological basis for all future solutions. This is supplemented by other databases such as SAP IQ. SAP HANA is derived from "High Performance Analytic Appliance". The basis is in-memory technology. Characteristic features of SAP HANA are:
SAP HANA has matured into a good platform for diverse applications. This platform offers applications certain basic services:
All functions can be used via SQL. My colleague has published a nice collection of common problems on our site. On my laptop I have installed the
SAP HANA, express edition
. So I can access patterns and sample solutions quickly and easily. Using it in the basic version is free as a development environment. To get started, I can recommend the book by Jörg Brandeis SQLScript for SAP HANA.
SAP HANA: R Integration
The requirements for advanced analytics algorithms are difficult to map with the standard procedures implemented in SAP HANA. SAP HANA therefore offers an integration of the
R server
. This makes it easy to call R code in SQL procedures. I like to access solutions in R for the recognition of patterns in data or for questions around the topic of time series analysis. Well-known examples of time series are stock prices, unemployment statistics, weather data, etc.
SAP BW – the classic data warehouse from SAP
SAP BW was first released in 1998 as the Business Warehouse Information System (BIW). Since then, BW has gone through many iterations. For big data, it was and still is useful to have a separate data model optimized for analysis. SAP BW is a full-featured data warehouse application that enables the integration, transformation and consolidation of relevant business information from production SAP applications and external data sources. The data warehousing process includes data modelling, extraction, transformation and loading (ETL) as well as data warehouse process management. SAP BW comes with various tools and services to support the development of SAP BW objects and processes, the provision of data to the system landscape, the execution of tests and traces, and the monitoring of the system landscape. SAP BW is also a full-featured business intelligence application that provides reporting and analysis tools and capabilities that enable organizations to make well-formed tactical and strategic decisions. Its online analytics processor provides OLAP capabilities and services, as well as services for BW-integrated design of planning and analysis processes. SAP BW uses only database functionality based on Open SQL: the lowest common denominator of all databases supported by SAP applications. Deep integration while supporting a wide variety of databases was only possible to a limited extent. Convergence of application and database can only succeed when focusing on one database technology. The result is
BW/4HANA
. In the webinar, I will show how easy it is for you to switch to the modern product version. Benefit from our experience!
BW/4HANA the central data warehouse
As a database, BW/4HANA only uses SAP HANA. Technically and functionally, BW/4HANA is still very similar to SAP BW on HANA 7.5 in the first version. BW/4HANA is now focused as a data warehouse tool. Other products are needed for reporting and planning. SAP's architecture diagram nicely shows the interaction of SAP HANA, BW/4HANA and the front end tools (reporting and planning).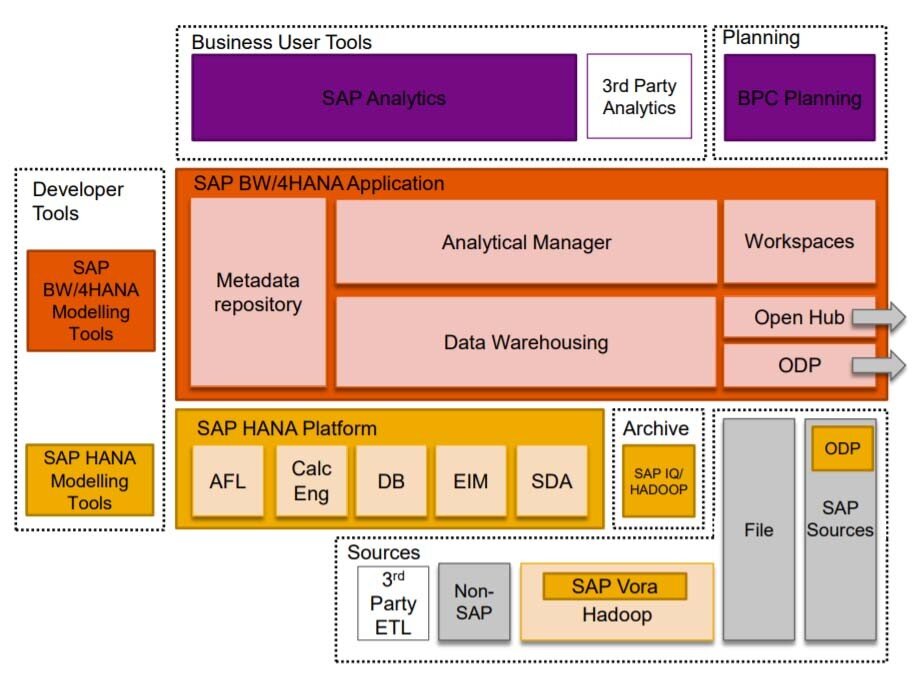 In my opinion, SAP BW and BW/4HANA are very good data warehouse solutions for storing structured data and making it available in consolidated form to a wide variety of applications. In larger environments, it is worthwhile to build and operate a separate system for this purpose. Here, new functions can be provided more quickly on a regular basis (software updates, provision of new applications and modified applications). Large amounts of data that are no longer changed can easily be stored more cheaply in an automated manner (in
Hadoop clusters
or
SAP IQ
). The keyword for such scenarios is Data LifeCycle Management (DLM). In order to be able to work with data in an integrated and legally compliant manner, we need end-to-end data authorizations. Data authorizations can be set up and used in (almost) every application. However, this does not create a system that users and responsible parties can trust. For me, there can only be one place in complex SAP landscapes: BW/4HANA (or SAP BW). Use the possibilities and proactively create trust in good data protection. I will take up this point again when presenting the
Business Analytics Platform
.
BW/4HANA vs. SQL-Data Warehouse
Pro BW/4HANA
Modelling templates for the different objects of the data warehouse
Load requests (load requests can be easily cancelled, transparency in data creation à internal control system for revision and auditors)
Analysis authorizations
SAP DataSources (data extraction consistent with business transactions; enriched with metadata (labels, attributes, hierarchies, texts)
Consistency with SAP systems can be easily established (fiscal year variants, currencies and currency conversion, unit conversion, etc.)
Business Content (data model templates)
Pro SQL Data Warehouse
Full modeling flexibility
Knowledge is widely used by non-SAP developers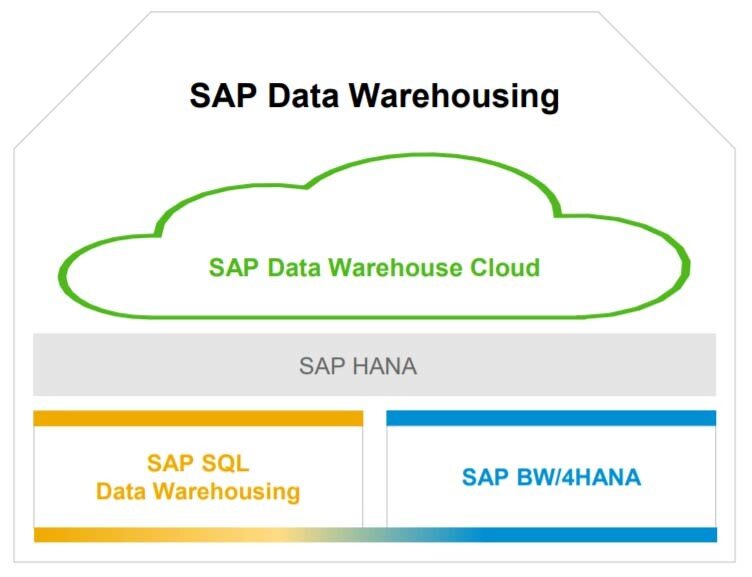 What are SAP's data warehouse solutions?
The
SAP Data Warehouse Cloud
rounds off the offering. Business analytics needs good data (enterprise data warehouse), it also needs agility for complex data structures. SAP Data Warehouse Cloud serves precisely this desire to be able to change and expand the data model independently and quickly. For the foreseeable future, the solution will not displace other solutions, but complement them. I recommend you read the blogs on our website. Now is the right time to start with suitable scenarios and grow along with the expansion of functionality.