The Fiori Launchpad Extensions by CubeServ has been enhanced with additional features: the mouse-over text and the dynamic title or subtitle. I would be happy to introduce you to a hidden feature that will allow you to visualize your Launchpad in a clearer way. We are always developing the application further. In this post I will show you possibilities which you can use in the future in Fiori Launchpad Extensions by CubeServ.
Query runtime information as mouse-over text
A new feature is the mouse-over text that displays query runtime information. This text appears as soon as the mouse is moved to an analytic or chart tile and stops. The query runtime information includes, for example:
Technical name and description of query
Calling user
Time of the last update
Key Date
Variable and filtering, etc
This information is basically visible to everyone, but can be controlled by authorization.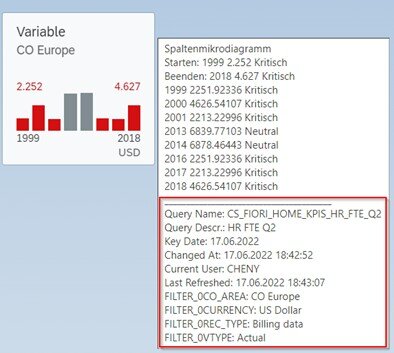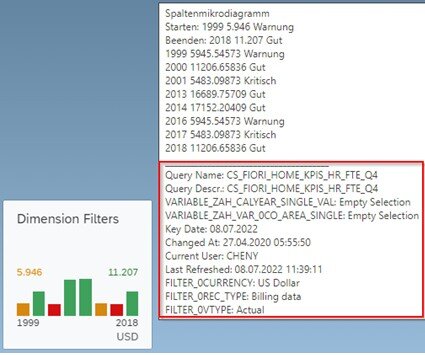 Dynamic title and subtitle
Newly the fields "Title" and "Subtitle" of tiles can be filled with variable or filter values. These are especially useful when, for example, the time or organization information in Query, such as the current released period, is filled by a Customer Exit variable and the time information in Tile is to be displayed as a title or subtitle. In the example, the authorized control area is displayed.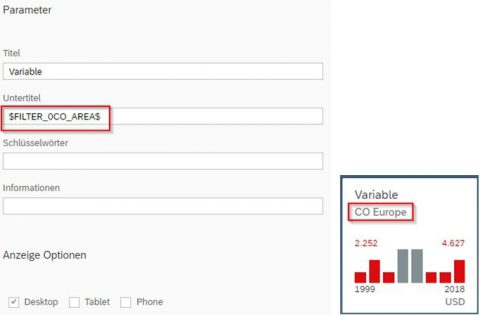 Display tiles visually differently
With the hidden function, which is not mentioned in SAP standard you can further customize your Launchpad. Because according to SAP only icons can be displayed in tiles. But also images like company logos, employee or product photos are possible. By using images, the tiles can be designed in different ways, both standard and as well as CubeServ group and tree tiles. This means that the individual tiles are visually differentiated and the corresponding tile can be found more quickly. be found more quickly.

Implement ideas from customers
Some customers are already working intensively with the Fiori Launchpad Extensions by CubeServ. We have already received requests and new
ideas for extensions. We are happy to comply with these. We are already working on the following features so that you can use them in the future:
Message tile as group and tree tile
The message tile can be offered as a group and tree tile, so that these can also be provided with an image. This way the message tiles appear visually even more meaningful and are better recognizable.
Comment function
The comment function is useful for dashboards. For this it needs the comment button in the header area in Fiori Launchpad. After pressing the button, the Launchpad goes into the so-called "comment" mode. If you click on a tile now, a popup window appears where you can enter and save comments. By clicking the comment button again, the Launchpad goes back to normal mode. The user then sees the comments as mouse-over texts next to the respective tile.
Tile 2×2
In the tile 2×2 two charts or one KPI(s) and one chart can be placed in a larger tile. This way you can compare two charts with each other or add KPI(s) to a chart. As it is already possible in SAP's SAPUI5 documentation.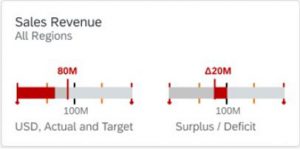 Which new feature do you find most interesting for your work? I am looking forward to your feedback.
Is your interest in Fiori Launchpad Extensions by CubeServ piqued? Contact me today.