Suočimo se s izazovima!
U ovim turbulentnim vremenima može se dogoditi da dugo očekivani SAP EPM projekti zamjene starih sustava budu zaustavljeni. To je neugodno, šteta, ali i razumljivo.
Ali ono što nije prestalo jesu očekivanja Vaših kupaca od sustava. Naprotiv, očekivanja su vjerojatno porasla.
Dijagram pokazuje što "kupac" razumije kao ASK i što "pružatelj" ima za ponuditi kao PONUDU zajedno s povezanim izazovima.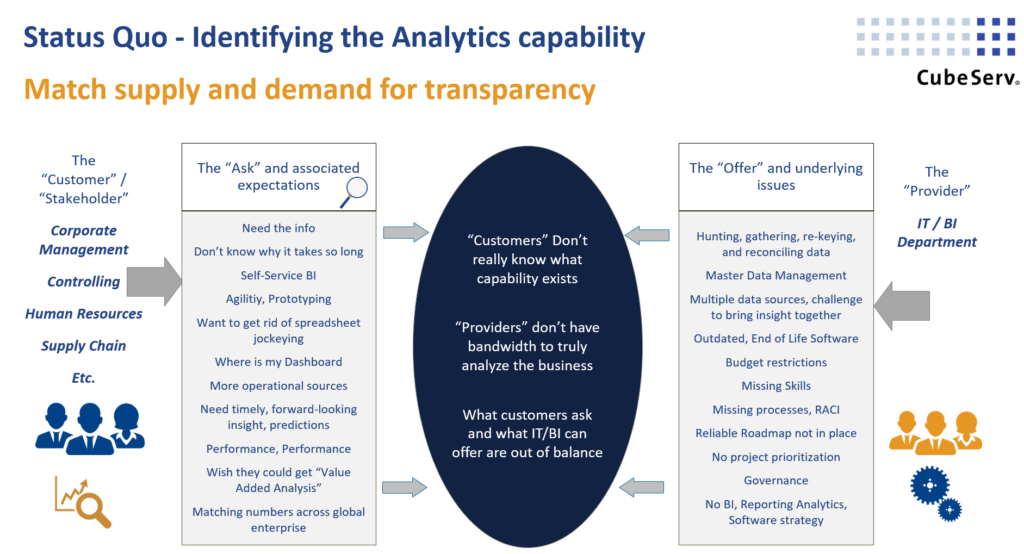 Vjerujete li da će Vaši sustavi ispuniti zahtjeve uz opravdan trud? Pokazuju li Vaša rješenja moguće sljedeće simptome:

Veliki napor za operaciju

Nestabilnost

Gubitak podataka

Veliki ručni napor za prikupljanje podataka, kao i za izradu izvješća, nadzornih ploča i predviđanja?
Razlozi za ove i druge simptome su višestruki. Vaše poslovanje je evoluiralo brže od Vašeg sustava, procedure i procesi su neučinkoviti, održavanje sustava je zanemareno, zakrpe nisu ažurne, a ono što vrlo često vidimo je da se simptomi mogu pronaći tijekom početne implementacije.
Zašto SAP EPM provjera stanja sada?
Dobra izvedba Vaših BI/EPM sustava uvijek je, ali posebno sada, od najveće važnosti. Vaš menadžment mora biti u mogućnosti donositi odluke ključne za budućnost brzo i jednostavno na temelju točnih činjenica i simulacija. Ovo se također odnosi na vanjsko izvješćivanje s Vašim regulatorima, bankama i dionicima.
Provjera stanja može brzo otkriti potencijal i riješiti probleme uz malo truda. Na temelju toga se također mogu izvesti upute za djelovanje za tekuće operacije.
Provjera stanja – fokusne teme
Izvedba kod
Izvještavanja

Učitavanja podataka

Obrade i pružanja podataka (je li noć prekratka da se svi podaci unesu u sustav?)
Procesi
I procesi u sustavu i procesi u Vašoj organizaciji moraju ispunjavati zahtjeve.
Model podataka
Imate li koordinirani model podataka za cijelu tvrtku?

Pohranjujete li iste podatke u različite silose podataka?

Trošite li puno vremena i truda na usklađivanje podataka?
Izvještavanje
Provodite li puno vremena stvarajući standardna izvješća?

Kopirate li podatke iz različitih izvora u PowerPoint?

Ima li Vaš odjel kontrolinga vremena analizirati i komentirati izvješća?

Zadovoljava li Vaše rješenje zahtjeve samouslužnog BI-a?

Možete li Vi ili Vaš stručni odjel izraditi novu nadzornu ploču spremnu za upravljanje u roku od nekoliko sati?
Planiranje, predviđanje
Je li rješenje agilno i fleksibilno?

Možete li simulirati?

Koristite li stablo pokretača vrijednosti?

Ili pokušavate svladati Excel čudovište?
Naravno, provjera stanja može se prilagoditi Vašim zahtjevima. Vi najbolje poznajete simptome svog sustava. Osim toga, naši stručnjaci imaju dugogodišnje iskustvo i mnogo toga su vidjeli.
Bez obzira na to kako i što provjeravate, cilj bi trebao biti da možete svladati trenutne izazove sa svojim postojećim rješenjima na najbolji mogući način dok ne dođe vrijeme za nadogradnju rješenja na najnoviji tehnički standard.
Što ćemo učiniti?
Uz danas dostupne tehnologije, SAP EPM Health Check možemo napraviti potpuno na daljinu. Pristup sustavima obično je moguć, a uz video razgovore dobivate osjećaj gotovo prave sobe za sastanke.
Naši predlošci
Imamo velik broj predložaka koji se mogu brzo implementirati i brzo dovode do vrijednih rezultata. https://www.cubeserv.com/loesungen/sap-analytics-products/
Kao što je naše najnovije rješenje u Cloud-u PeoplePLAN, koje će nadahnuti Vaš odjel ljudskih resursa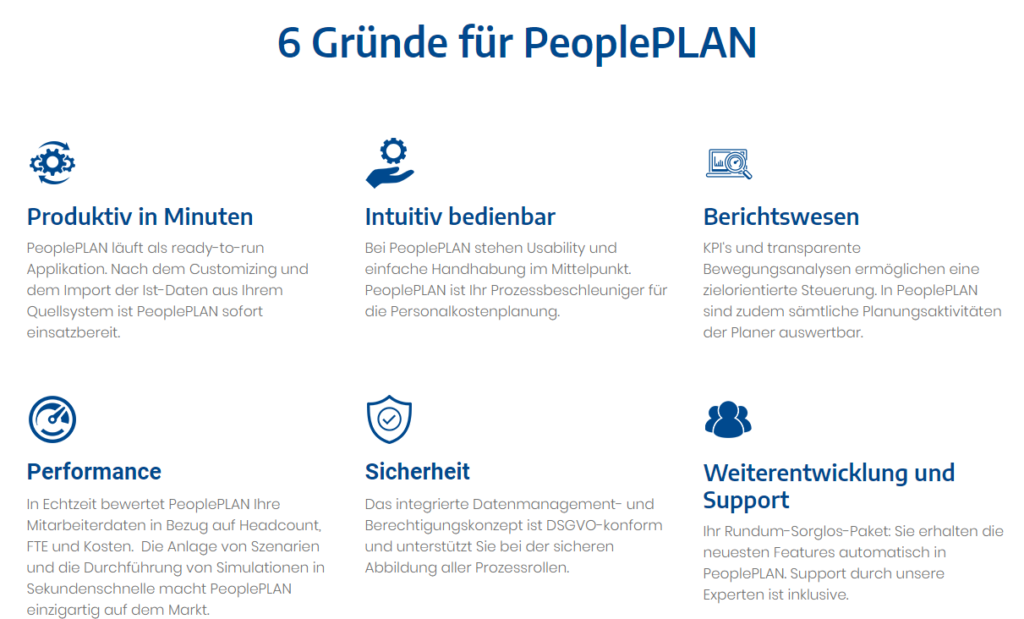 Naši stručnjaci
Ovisno o opsegu, pažljivo biramo najbolje stručnjake za Vaša pitanja. Svi stručnjaci imaju dugogodišnje iskustvo u području SAP BI/EPM, kako sa starijim sustavima tako i s najnovijim SAP rješenjima kao što su BW/4HANA, Data Warehouse Cloud ili SAP Analytics Cloud. 
https://www.cubeserv.com/solutions/
Radujemo se Vašem kontaktu.
Radujemo se Vašem kontaktu.
Željeli bismo Vas pozvati da sudjelujete u našim redovitim webinarima.