U prethodna dva dijela ovog bloga opisao sam kako tvornička simulacija Fischertechnik generira podatke u obliku CSV datoteke i kako ti podaci ulaze u Hadoop klaster i tamo su čak dostupni kao tablica. Ovaj dio sada se bavi raznim mogućnostima izvješćivanja o sadržaju ove tablice. Postoje dva relativno jednostavna načina na koja se podaci iz ove Hadoop tablice mogu učiniti dostupnima SAP alatima: 1. U HANA bazi podataka putem SDA (Smart Data Access) ili SDI (Smart Data Integration). Podaci se tada mogu, na primjer, konzumirati u SAP Analytics for Cloud (za to tada nije potreban SAP BW sustav) ili se konzumirati u SAP BW sustavu. 2. Uz pomoć GLUE Middleware-a naše partnerske tvrtke Datavard, vrlo je lako kreirati tablice u Hadoop-u s ABAP transakcijama, čitati ih ili premještati sadržaj naprijed-natrag između tablica u Hadoop i ABAP tablicama. Za to nije apsolutno potrebna HANA baza podataka, već ABAP aplikacijski poslužitelj. Ovdje bih želio predstaviti obje mogućnosti. SDA/SDI SDA/SDI SDA ili SDI su biblioteke konektora koje isporučuje SAP. Omogućuju vam povezivanje udaljene baze podataka i generiranje virtualnih veza na tablice ove udaljene baze podataka. Tim se virtualnim vezama tada može pristupiti kao da su lokalne tablice u bazi podataka HANA. SDI adapteri su tehnološki napredni i imaju dodatne mogućnosti u odnosu na SDA adaptere. Na primjer, trenutno su u mogućnosti izdvojiti samo delta promjene tako da ne procjenjuju tablice već zapise promjena. Treba li provjeriti imaju li i koje mogućnosti adapteri od slučaja do slučaja, npr. u slučaju Hadoop, adapteri nemaju ovu delta sposobnost. Nadalje, za razliku od SDA, SDI adapteri se dodatno naplaćuju. Čak smo povezali našu HANA bazu podataka (HA4) s dva različita SDI adaptera za potrebe testiranja, jednom putem SDI HiveAdaptera:

i jednom putem SDI ImpalaAdaptera: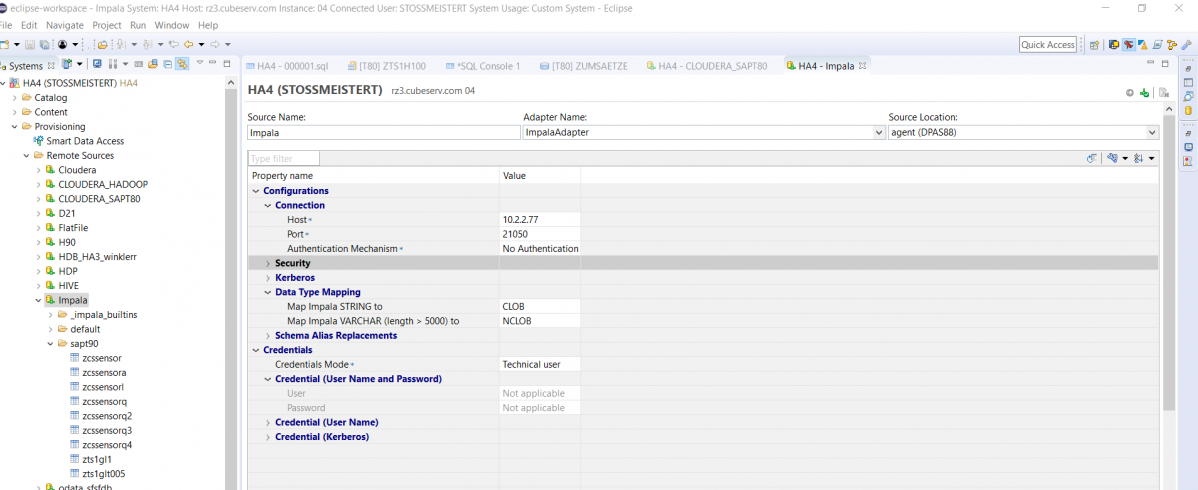 To olakšava stvaranje veza virtualne tablice (ovdje u shemi DATA_EXTERN) koje se mogu koristiti za pristup izvornoj tablici.

Ovo također radi izvrsno, kao što npr. pokazuje sljedeći upit: