In wenigen Schritten selbständig, schnell & einfach ansprechende Stories bauen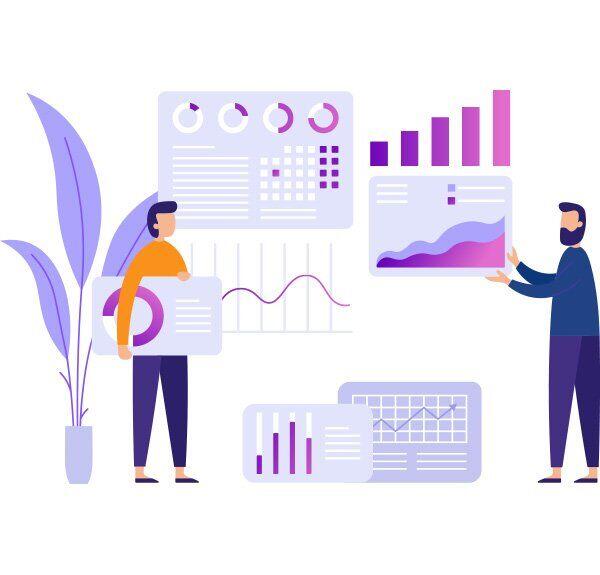 Einfach und agil Stories bauen!
Eben mal schnell dem Management inhaltlich komplette wie auch visuell ansprechende Stories liefern. Das ist mit heutigen Mitteln oft nicht möglich.
Die Gründe dafür sind mannigfaltig.  Das Ziel muss sein, aus verfügbaren Daten neue Erkenntnisse sowie konkrete, verlässliche und datenbasierte Handlungsempfehlungen abzuleiten. Dies in einer agilen Methode, IT-unabhängig und als visuell attraktives Dashboard. Die  SAP Analytics Cloud eignet sich dafür hervorragend!
Datengetriebene Entscheidungen tatkräftig unterstützen
Als wertgeschätzter Business Partner erfüllen Sie die Analyse- und Reportinganforderungen ihres Managements. Aber nicht nur dies, Dank der einfachen Handhabung bleibt Ihnen genügend Zeit die Stories neben Zahlenreihen auch mit darauf basierenden  Handlungsempfehlungen zu kommentieren.
Mit Unterstützung der Augmented Analytics Komponenten erforschen Sie die Daten im gesamten Unternehmen und liefern Erkenntnisse in der gewünschten Form; auf der Smartphone App, Notebook, Push Email oder als formatiertes PDF Dokument. Ganz dem Grundsatz "Anytime, Anywhere, Any Device" folgend.
Die Planungsfunktionen unterstützen den integrierten Planungsansatz. Auch hier, sie arbeiten in derselben Umgebung wir für das Reporting und verbinden somit sehr einfach Predictive Forecast, Werttreiberbäume, Geo-Reporting, Plan-Ist Vergleiche uvm.
Mit den Kommentierungs- und Kollaborationsmöglichkeiten arbeiten Sie mit Ihrem Team nahtlos, ohne Medienbrüche, an denselben Stories, Reports, Analysen und Planungsszenarien.
Stories, Planung, Predictive &
Die SAP Analytics Cloud-Lösung, gebaut mit der Fachabteilung als Kunde im Fokus, vereint BI, Augmented und Predictive Analytics sowie Planungsfunktionen in einer Cloud-Umgebung. Als Analyseschicht der SAP Business Technology Platform unterstützt sie unternehmensweit erweiterte Analysen.
Der Einstieg geht schneller als gedacht. In unserem Workshop zeigen wir Ihnen auf, wie der Weg in die SAC geht, unter Berücksichtigung Ihrer bestehenden Analytics Landschaft und Business Analytics Strategie.  
Führende Unternehmen setzen für Business Analytics Lösungen seit über 20 Jahren auf die Kompetenz von CubeServ
Fragen Sie nach einer Kundenreferenz und sprechen Sie direkt mit Entscheidern
In vielen Fällen können wir Sie mit einem bestehenden Kunden vernetzen, um aus erster Hand Feedback zu seinen Erfahrungen mit CubeServ  zu erhalten.
Nutzen Sie unser Expertenwissen zur SAP Analytics Cloud
Advanced Analytics Expert. Passion to build/run SAP Business Analytics Platform. Bring intelligence in the process. HANA Expert.