Business Analytics vs. Business Intelligence. 2. dio bloga (serije) o poslovnoj analitici za raspravu. ✌ Zar već ne znamo pristupe? Ovo je 2. dio:
Analitika – važan građevni element za uspjeh tvrtke Dr Mischa Seiter prikladno sažima srž zadataka analitike: "Kompetencija za analizu dostupnih podataka na način da se poslovni problemi mogu riješiti na temelju dokaza središnji je izvor trajnih konkurentskih prednosti za tvrtke… Dokazi su dobro utemeljeni , shvaćeni objektivni uvidi u situaciju" (iz Business Analytics: Kako koristiti podatke za upravljanje tvrtkama, 2. izdanje). Ova definicija za poslovnu analitiku ne razlikuje se bitno od drugih definicija i opisa koji se koriste za okruženje poslovne inteligencije, skladišta podataka itd. Po mom mišljenju, korištenje izraza "staro vino u novim bocama" ovdje ne ide dovoljno daleko.

Business Analytics vs. Business Intelligence
Oba izraza se koriste za slična pitanja. Razlika u korištenju ova dva pojma u biti leži u odgovornosti za BI aplikacije. Organizacija, a posebno djelovanje BI rješenja bilo je moguće samo uz visoku razinu posebnog znanja. To je rezultiralo odgovornošću u IT-u u mnogim tvrtkama. Uz to, mnoga rješenja kojima se upravlja u okviru Business Intelligence karakterizira činjenica da su razvijena vrlo učinkovito za svoje zahtjeve te tako jamče dobar i siguran rad, ali se pokazuju vrlo glomaznim u odnosu na nove zahtjeve. Odgovornost za rad rješenja za analizu podataka znači da se stvarni vlasnik (poduzeće) više ne identificira s njima i teži vlastitim rješenjima. Za to je potreban novi pojam kako bi se razlikovali od postojećih rješenja i dodijelili sredstva za nove projekte. «Business Analytics» je ovdje dobar izbor i pokazuje da je potrebno nešto novo i da se također pojavljuje nešto novo. Sljedeća slika M. Seitera: Business Analytics: Kako koristiti podatke za kontrolu tvrtki pokazuje proces.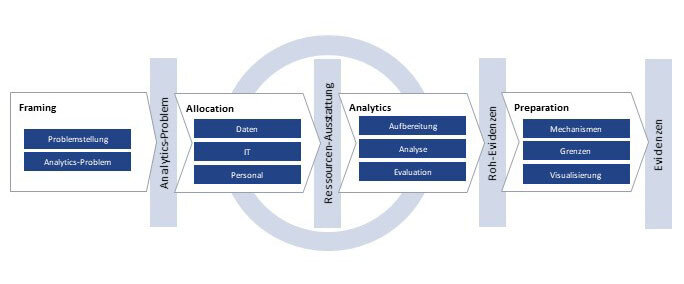 Pogled na proces poslovne analitike jasno pokazuje da ovo nije nova tema. Dobro smo svjesni pod-koraka, ali u tom kontekstu BI aplikacije ponovno se približavaju poslovanju. To značajno mijenja pogled na tehnologije i alate. Grupa Gartner također je bila aktivno uključena u re-branding za analitiku, iako već znamo pitanje pod ključnom riječi "Skladište podataka" (2001.).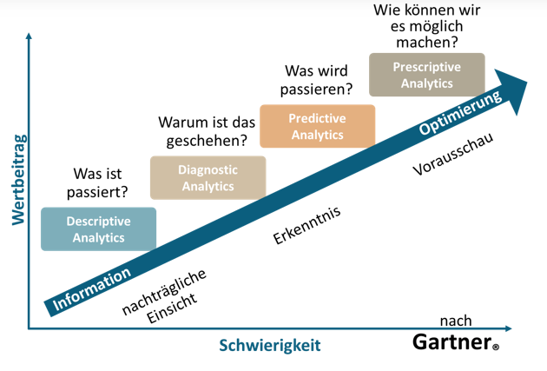 Pogledamo li raznolikost rješenja u tvrtkama, uočljivo je da je većina etabliranih rješenja u području deskriptivne analitike. Mnoge BI aplikacije karakteriziraju stabilnost tijekom dužeg vremenskog razdoblja. Metode koje se mogu pripisati području napredne analitike praktički se ne koriste. Potpuno drugačija situacija je s pitanjima koja ili ne postoje stabilno ili su vrlo nova i zahtijevaju hitan odgovor. Svatko tko je ikada želio izgraditi stabilnu bazu podataka ili stabilna izvješća za područje marketinga znat će koliko se brzo pitanja u ovom području mogu promijeniti. Marketing tu zasigurno nije sam, ali nudi vrlo živopisan primjer. Preporučam kombiniranje oba pristupa. Još danas imamo neke kupce počevši od skladišta podataka. Puno je podataka, pitanja i priprema podataka koji su od trajne vrijednosti za tvrtku. Za njih preporučujem Enterprise Data Warehouse. Za to će i dalje biti potrebni stručnjaci. Poduzetničko skladište podataka razvilo se u logičnu konstrukciju. Monolitni blok ne može ispuniti zahtjeve. Zahtjevi za učinkovitost takvog rješenja redovito neće odgovarati na nove ad-hoc upite. Kako bismo osigurali agilnost za nova pitanja, trebamo biti nadopunjeni organizacijom koja je vrlo bliska poslu. Poduzeće mora imati priliku mijenjati i dalje razvijati vlastito tržište podataka i dobivati ​​učinkovite odgovore na spontano nametnuta pitanja.